the weekend of weeeee-ness:
Tagaytay!
Last Friday evening, I was rushing to La Salle to catch up with the rest of the people heading up to Tagaytay for a two-day FORMDEV teambuilding+retreat under Bro. Ceci Hojilla, FSC. It was almost seven when I arrived at Gox, only to find out the we weren't close to leaving, until around fifteen minutes to eight. Make that nine, as we still went to South Gate to pick things up, and also Bro. Ceci.
The trip was cool, alright. Traffic was, as always, heavy before hitting the Bicutan and Sucat exits, but after that, everything was smooth sailing. We stopped by the Shell station near Susana Heights for gas and some snacks. I ended up buying nothing, knowing how unbelievable Select's mark ups are.
Anyway, the trip to Tagaytay was pretty quick. We blazed through Santa Rosa and Tagaytay's outlying areas in around an hour or so, arriving at the La Salle Villa a quarter of an hour to ten. There we had a simple dinner, with Bro. Ceci starting to crack jokes about not expecting that we will be having dinner upon arrival.
The night was pretty uneventful, save for stories from Sir Raffy and the other guys who decided to stay up until around two am or so. I myself went to bed at around one am.
Tagaytay's evening breeze was a welcome change from the exhaust-filled environment of Metro Manila. Fresh, cool and light, unlike a typical Manila night's still and very humid air.
I woke up before anybody else at around 530 am, expecting things to happen early. Perhaps exercises. Really, I was expecting a lot of activities to do today. But nothing happened until around mid morning, when we had our first session with Bro. Ceci.
Bro. Ceci's initial presentation and sharing of personal stories were inspiring in how it brings to fore the very things St. La Salle was concerned about when he started the Christian Schools: the poor. He also discussed the mission of the Brothers, along with the things they currently do. Definitely fascinating.
After a hearty lunch, the group spent the entire afternoon doing nothing. We tried to share stories, but that was easier said than done. We just did not have enough of a common ground from which to lob stories from. Anyway, we just limited ourselves to playing 'killers', a card game I remembered having in one of courses last year as an ice breaker.
Truth be told, we really didn't do much, even on Sunday. It wasn't all bad, as I personally loved hanging back and just relaxing--it gave much time for reflections and deep thought. The geek in me finished the book I had with me in record time.
The relative downtime was very welcome; a much-needed break from the daily humdrum of school life back at Taft. I wish we'd be having more of these in the future, but that's wishful thinking.
Popoy said that F. Sionil Jose's "My Brother, My Executioner" would be slow. I didn't find that to be true as the story progressed on. In its entirety, it turned out to be a worthwhile read. I'd be reading it agin just to make sure I've read and understood the story completely.
Sunday morning came and I decided to finally bring out my camera. Alas, its batteries weren't charged from its previous outing, so I only had the chance to snap around eight photos. Here are some: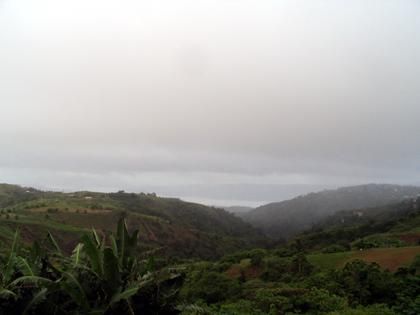 Early morning! 6:41 am.
Just morning. 7:35 am.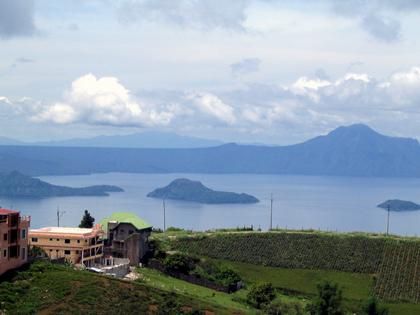 Before last session. 11:03 am.
We started home at around 2 pm, arriving at Gox a few minutes before 4 in the afternoon. Called up Dad if he was somewhere near and if he could pick me up, said no, that he was inspecting another of our houses being built. (gosh. we've got four lots with houses at various stages of construction. not one is finished and we're still renting after nearly a decade. methinks Dad has a fetish for building stuff... without actually getting around to completing them :)
He said he'll pick me up if I could wait thirty to forty minutes, even suggesting I get something to eat. I was thinking of getting pizza at Yellow Cab, but I figured that I was penny pinching and opted for something cheaper instead. Ended up going to the grease joint MickeyDs to get something to munch on. Mickey D didn't have much people, save for a lucky kid's birthday party guests. I ordered virtually nothing, save for a mcflurfy and a iced tea. If there was anything to be gained from the McDo experience, I got the chance to ponder on the intricacies of a cup of Oreo-vanilla soft ice cream and how some people spend Sundays. (So, tell me, are they really dating? I've heard stuff, but this may be the smoking gun. And on a Sunday! ;)
I am bad.